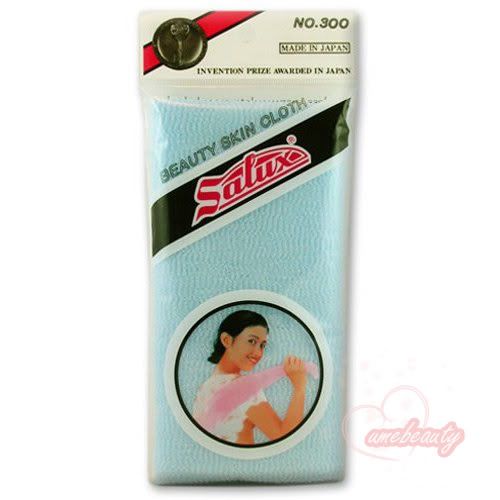 I bought this for $3.85 from Amazon
Mine is in the color "powder blue"
And off we go~~
Available at many stores online.
Amazon.com
(this is the specific one I bought, although not the color that I received)
Saluxshop.com
Ebay.com
What is it?
From
Saluxshop.com
It's basically a textured wash cloth. 60% Nylon and 40% Polyester. It's very long - 11in x 35in long, which is nice because it reaches your back and shoulders without having to stretch all around.
For better reference -
And the texture
The texture exfoliates well without being too rough or harsh on the skin. You can use it anywhere on the body. I use it very gently on my eyelids and my neck because they are both sensitive areas for me. (I have rubbed my eyelids raw with a regular washcloth before) :(
This works great on my face. I use it almost every night. It takes the flaky skin off of my nose and forehead quite nicely. It takes off a lot of makeup! I kinda felt gross - I used it last night after I washed my face, and it was still taking foundation off of my skin.
It works nice for the body as well. I use it pretty much everywhere, but especially on my knees and elbows (I have eczema that flares up in the winter, although they are usually dry as it is).
It rinses out very quickly and doesn't get makeup stuck to it.
It is machine washable, which is nice. :3
The only downside I came across was the lathering. I don't really get any significant amount of lather out of this. It doesn't bother me though.
Overall this is a great product at a great price.
I highly recommend this to anyone.