Favorite. Mascara. Ever.
You can buy this at drugstores, Walmart*, and any other place that carries CoverGirl Cosmetics
*Walmart tends to have lower prices than at drugstores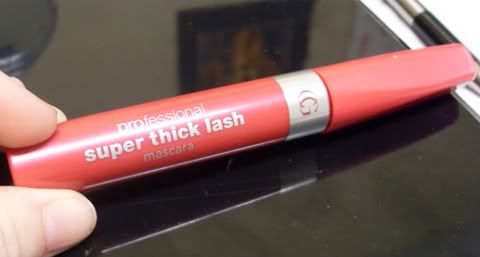 "For big, bold, thick lashes, Super Thick Lash is the one. Its Lash Builder brush separates, defines, and reaches for those little lashes so you get thick, full lashes – so easy, so beautiful!"

The CoverGirl Professional All-in-One Mascara was the mascara I first started out with....nothing really special for me, so I never really looked back at the rest of their Professional line. But when I went on vacation this past May, I forgot to pack a mascara so I used my mom's Super Thick Lash. (I know, sharing mascara isn't good...)

I fell in love. This isn't my perfect mascara, there's nothing really that fancy about it. But there's something about it that I just adore. When we stopped at Walmart to get some groceries, I picked one up right away!

Now onto the review...


This mascara has a traditional fiber brush, nothing fancy to it. The brush is a little fatter than most fiber brushes.















Gives me some great volume and is definitely buildable. The definition is so-so, doesn't grab all the little lashes. Despite not being a lengthening, I do get some nice length out of it.


Naked lashes






































With Super Thick Lash







































Pros
Decent definition
Great volume
A little bit of curl and length
Plays well with other mascaras
Cons
Can clump
Overall 9/10