$1 at
eyeslipsface.com
You may be able to find them at Target or Dollar Tree
"Get no smudge with no-budge eyeliner, which creates a fabulous and fresh look of precision that lasts for hours. The smooth pen applicator easily glides on color for very fine to bold lines for effortless beauty." (from eyeslipsface.com)
These are decent. They're not spectacular and they're not horrible. Reflects the $1 price tag.
What they are, though, is wonderful for beginners to eyeliner.
Eyeliner pens are very easy to use, so even people who aren't experienced or don't have an extremely steady hand can use them.
The pigmentation isn't that great, but they are buildable to a point When you first use them, they are really nice...but they dry out rather quickly. I do think they're nice to lay down a guide for a darker eyeliner, which is what I use this a lot for!
As for wear...if you rub at them, they will smudge, but by itself the color doesn't migrate and cause raccoon eyes. They're not extremely waterproof.
Coffee and Black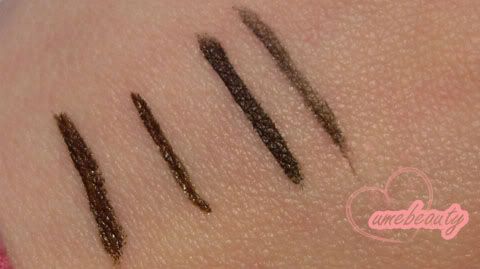 Pros:
Great for beginners
Easy to use
Felt tip
Can be used to create very thin or very thick lines
Buildable color
Decent for the price
Cons:
Not extremely pigmented
Smudges
Not really waterproof
Overall
4/10