Available at CVS, Rite Aid, Ulta, Walmart and Target.
I personally have not seen them in either Walmart or Target.
Prices vary.
I've seen them from $4 to $8. I think I got mine for $7 at CVS.
"Buttery balm with beautiful shiny color to give you baby soft, healthy glowing lips.
94% of women felt lips were softer, smoother, and instantly hydrated.

Hydrating mango, shea and coconut butter formula boosts lip moisture by 156%
Pampering gel formula provides super charged hydration and glides on lips buttery smooth
Sheer to medium colour with buttery shine
Available in 20 luscious shades"
I have a ton of lip products, but there aren't a lot that I'm absolutely in love with except Lollipop.
I love bright colors and raspberry-ish colored lip products and this one is perfect.
Pink Truffle is a lovely neutral shade with just a hint of a rosy color.
These have been super hyped up and for a reason!
First off, the packaging is simple and functional, yet cute. The cap stays nice and tight so you won't lose it.
The color of the package corresponds to the color of the balm, and has a "window" on the top so you can see which one you are grabbing.
Lollipop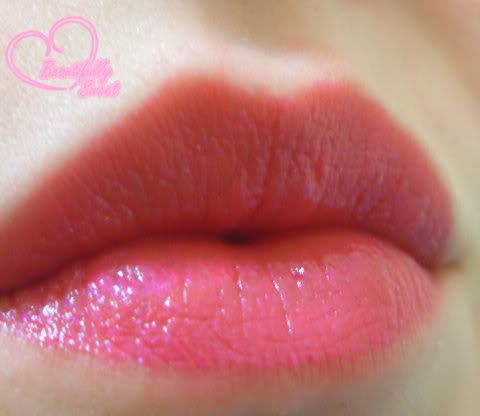 The actual color is brighter than in the above picture.
This is with 2 layers on.
Pink Truffle
These apply so smoothly and feel wonderful. They do feel more like a lip balm and are very moisturizing, while being quite pigmented like a lipstick.
You can build them up without a heavy or sticky feeling.
Even though they are very glossy, I didn't feel or see any spots where it would gather on my lips. Unfortunately because they are so glossy, they do not wear very long. You can work them into your lips, but it's more difficult because they are very slippery.
Pros
Great texture
Moisturizing
Well pigmented
Great color selection
No gathering or feathering
Simple, cute packaging
No smell
Cons
Not cruelty free
Doesn't wear very long
Pink Truffle can be patchy
Overall
9/10
I would definitely recommend these to anyone!