~$4 at Walmart, Walgreens, and Rite Aid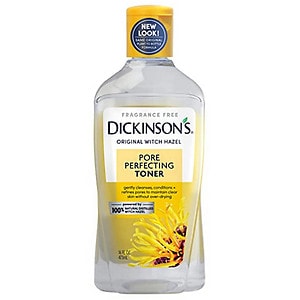 "Cosmetic Benefits:Excellent for sensitive skinRemoves excess oil and sebumControls oil productionReduces skin blemishesCleanses and conditions skinTones and tightens poresSoothes rednessRefreshes and cools skinDoes not over dryHypoallergenicDermatologist tested" http://www.dickinsonsusa.com
Can you say something I will never again live without?
I've been using this for about 2 months now and I absolutely love it.
I've noticed a huge improvement in the size of my pores on my nose and between my eyes.
This has helped greatly with my acne, why couldn't I have heard about this 4+ years ago?
I've had bad acne from the time I was 13 until now. Granted, being on birth control for the past 2 1/2 years has helped too, and that really helped the acne on my back.
I still get breakouts but they are not as bad as I used to get and go away quicker.
I also have noticed that my forehead is less oily since I've been using this. It's not a huge improvement, but it has helped.
The only downside I can find with this is that some people might not like the smell. It goes away pretty much instantly though.
Pros
Cruelty Free
Non-drying
Diminishes pore size
Helps to control oil
Really helps with acne
Cons
Smell can be a bit much for some people
Overall
10/10