$31 for 40g, $18 for 15g from
skin79northamerica.com
Also available on
ebay.com
,
amazon.com
, and other websites. Do some shopping!
I got a few sample packs from eBay. Each pack has enough for 2 applications.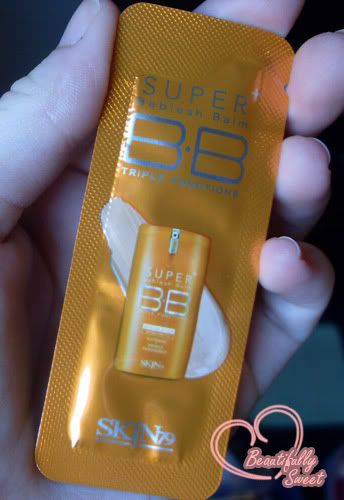 "Upgraded Sunscreen with UVA and UVB protection SPF50. Strengthen's skin NMF and maintain balanced skin condition. Osmopur-N and Vital-V Complex soothe and protect skin from harmful environments for a moisturized, healthy skin."
This BB Cream is supposed to be good for the following -
"Oily skin with a lot of sebum
Skin with brown spots, blemishes
Skin with large pores
Skin with no elasticity
Dry skin with age spots and wrinkles"
The following 3 pictures are from skin79northamerica's site
Click for full view
This has the highest SPF that I've seen in a BB Cream.
I admit, I'm kinda skeptical about how BB Creams can provide both moisture and oil control, but I've tried some that work pretty well.
This BB Cream has very good coverage while still remaining lightweight. It makes my skin feel so soft.
It does dry to a mostly matte finish, it has a touch of dewiness to it.
It really helps covering redness not only on my cheeks, but on my blemishes too.
It doesn't help that much with oil, I got oily after about 2-3 hours and I really just don't like the way it sits on my skin. It's cakey around my nose and has a grainy appearance on my nose and forehead. It also sets into any line it can. :(
Before
After
Pros
Cruelty Free
Medium to full coverage
Nice texture
Lightweight
Blends well
Covers redness, even around blemishes.
Covers pores well
SPF 50
Cons
Doesn't help all that much with oil
Cakey around nose and forehead
Settles into lines
Overall
7/10