These is just my first 3 orders from E.L.F, my most recent one will have a post of its own.
I have other stuff from elf, but this was a post from my old blog and not scattered lol
All regular E.L.F brushes are $1 and Studio Brushes are $3
I bought the studio small precision brush, the regular eyeshadow brush and lash/brow wand.
I hated the eyeshadow brush, but I just got a defective one. It happens every once in a while but that doesn't mean that
brush as a whole is bad. I bought another one later and it works great. Good thing they're only $1.
The precision brush is my all in one! I adore it. I use it to set and smudge eyeliner, apply eyeliner, gel/cream liner, apply lip color...everything!
Next up the the Mini Makeup Collection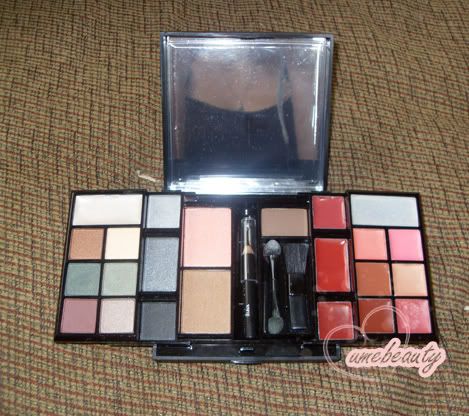 This is so cool! I got it for free with an email code. They give them away every so often. Normally these are $15 online but
I saw them at Target for $10.
This includes:
1 cream eyeshadow
9 powder eyeshadows
A blush and bronzer
An eyebrow powder
10 lip colors
A black eye pencil
and 3 brushes
I've been using it off and on and I really like it.
and last --
Waterproof Eyeliner Pen
It's pretty waterproof, it wont come off all the way with soap and water.
It has a felt tip and can make a very fine line with minimum effort. It's great for beginners.
You need to store this sideways or upside down for the color to come out right. It also says so on the package, but I had
heard from other sources.
I don't really use this much anymore...they really dry out fast
2nd Order
Beauty Encyclopedia - Sparkle Eye Edition $5
Very nice palette and super sparkly.
Studio Eye Transformer $3
Very nice product. I use it mostly over black liner on in the inner corner.
Absolutely adore this! HG primer
Natural Shadows and Brush $3
So I got one of these for free from my mom. She had bought the same palette at Target about 3 weeks ago. :D
I adore this palette! Such nice colors for fall
Order #3
In order:
Moondust, Wisteria, Mocha, Pink Ice and Ivory.
I really like these, but they are so easy to over-blend.