I got this on sale at Rite Aid for $5.39. I saw the 40% sale and thought that I'd like to see how I like it, as it is very popular.
Regular price $7.79 at Rite Aid
Available at drugstores, Walmart*, and anywhere else that sells CoverGirl products.
*Prices tend to be lower at Walmart than at most drugstores.
And off we go~~
"Get a blast of lush, volumized lashes! LashBlast's patented volume-boosting formula and patent-pending brush are designed to max out each and every lash, leaving you with the ultimate big-lash look."
We all know its never as good as the packaging says...but I do really like this mascara. The first thing I noticed was it gives a ton of length, and on the first coat too.
It's not my absolute favorite mascara, but I find myself reaching for it often.
Now, when I put this on at first I was disappointed. It got clumpy so I tried to brush it out by going through my lashes again. It helped a little bit, and I grabbed a spooly and brushed my lashes out. Keep in mind I always go through my lashes with a spooly at the end of my mascara application.
I've found that this mascara works best if you use a lighter hand than usual.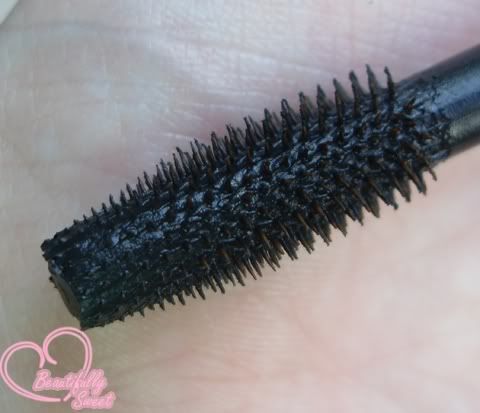 Pros
Really nice length, good volume. I think its a happy medium between natural and bold lashes.
It works well with other mascara (I love layering, can you tell?)
Cons
The tip of the brush has short bristles that are nearly submerged in mascara, so you need to be careful when using the end of the brush. I recommend that you either lightly wipe the wand with tissue paper or toilet paper before you apply. Or wipe off the tip on the opening of the bottle. I usually do this with all my mascara as well.

There's some flaking that goes with this mascara, but I don't think that it's too bad.
So here is the closeup of my lashes
I really can't say it gives the "ultimate big lash look", as the packaging states, but I think its worth the price.
Definitely one of my favorites.
Overall
9/10