I was in love with this the moment I saw it <3
It turned out really cute! I look terrible in certain blues, but this one really worked out for me :)
My freckles are starting to show!! :3
And off we go~~
What I used
88 matte palette (the flash has this bleached out a lot)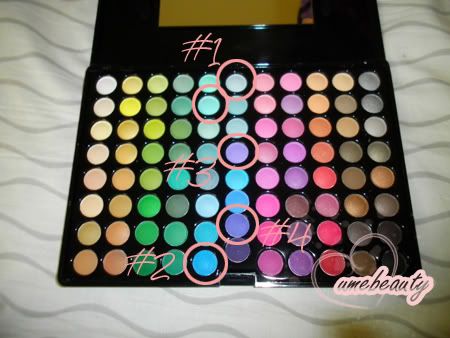 Inside half of eye - #1, mix of those two blues
Outer corner and up a bit into crease - #2 blended out a good bit
Crease - #3
Eyeliner is Bonne Bell Plum Eye Style Precise Liner with #4 used to set it and smudged on lower lash line
Inner corner is Prestige Eyeshadow in Oasis (love this color)
and the bottom of the inner corner is Jane Gliding Liner Eye Pencil in Scuba
for mascara (almost forgot!)
I used CoverGirl LashBlast Volume and Ulta Amped Lashes
It's very wearable, you can tone it down if you don't use the purple eyeliner. I think this is a great look for people who can't usually pull off blue colors. The purple really does help to soften it down and the blues are fairly pastel, which is much easier for me to pull off.
It's mostly matte as well, at least with the products I chose. The dark blue has a bit of sparkle in it, but it's not too much.
I adore this look, and I'll have my "looks" pages up before too awful long. This one will probably be on it!