This is a very old review that I just hadn't gotten around to until now.
$3 at
eyeslipsface.com
and some Target stores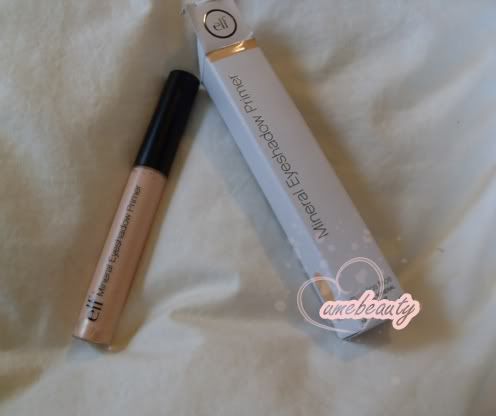 From the
website
"This gentle and completely sheer Eyeshadow Primer has key vitamins A, C and E to help prevent aging and moisturizes the skin. The formula glides on easily and disappears instantly to create longer-lasting, crease-proof eyeshadow. The Mineral Eyeshadow Primer is designed to be used with your favorite mineral eyeshadow to provide ultimate staying power for beautiful and vibrant color that lasts. 100% mineral based with no parabens, no preservatives and no chemical dyes."
This primer is very sheer - I couldn't get a picture to show it, but you can barely see any color whatsoever. It has a really silky texture.
I've only used 3 eye primers - E.L.F Eyelid Primer, Mark. Please Hold Eye Primer, and this one.
And I've heard all the raves about Urban Decay Primer Potion, Too Faced Shadow Insurance, etc...
But honestly, this one works so well for me already that I don't even have the yearning to try a high end brand eye primer. E.L.F Mineral Eyeshadow Primer is cheap and it works amazingly.
The first time I used this was the day I went to a waterpark. I swam around, went down waterslides, went in a wavepool, and was submerged completely underwater several times. At the end of the day we got into the card and I looked in a mirror to see how bad my makeup ran.
It was almost completely intact! Granted, I didn't rub my eyes at all and my mascara was half worn off...but my eye makeup barely budged!
I have oily lids and this easily lasts 10+ hours on me with no creasing or fading. It does occasionally crease on days when my skin is exceptionally oily, which doesn't happen that often.
I've had this tube for almost 8 months now and it's still going. The only problem with it is (UDPP lovers, you know this well) the tube has the design flaw that won't allow you to get all of the product out. But I think that when it gets to that point I'll pull out the stopper and try to get as much out as I can.
I definitely recommend this product to anyone looking for a cheaper eye primer that lasts!