Available at Walmart, Ulta and Drugstores
Prices vary. I've seen from $6.99 to $9.99 online.
I got mine for around $7 at Rite Aid.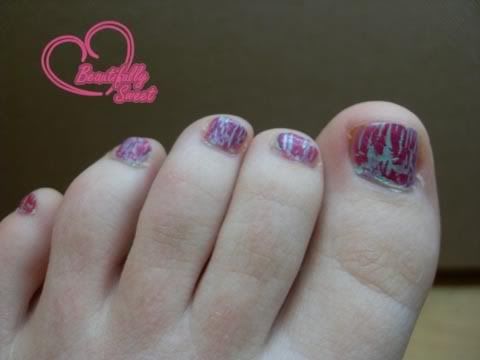 I love this color, it's so cute! I like to wear it over green-ish shades as you can tell.
This works the best over a light nail polish for the brightest pink color. Over darker colors it's more of a magenta.
On its own it dries to a matte finish, but I have problems with polish staying on so I always use a top coat. I don't know if it's my fingernails or what, but most polishes start to chip within 2 or 3 days for me. The crackle polishes last about 3-4 days without chipping though.
The brush is really skinny, which is both good and bad. It could be a little wider in my opinion but it's good to get into the sides of your nails.
The bottle looks nice and isn't overly bulky, but it makes it look like it contains more product than there really is. Not that it's much of a difference, but it contains .4oz of polish, slightly less than most nail polishes.
Unfortunately, when I used the pink one today I found that it was really goopy and clumpy. It says on the back of the bottle that it has a 30 month expiration date. I've only had it for just over a year. :(
I actually don't own the black one (Ink Spatter), but I tried out some of my friend's polish.
The brush was wider, which was ok but the formula was a lot thicker than the pink one.
Pros
Awesome color
Sally Hansen has several different colors for sale
Applies easily
Nice packaging
Cons
Brush could be wider
Mine went bad at just over a year
Doesn't stay on that long for me
Overall
7/10