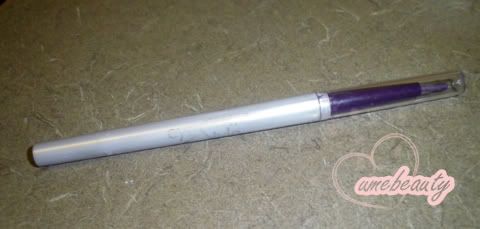 My picture is really bad. The design on the outside rubbed off of it...all over my hands.
And off we go~~
This is a steal. You can buy it at Walmart and other stores that carry Bonne Bell.
I've seen it cost between $2 and $4.
Bonne Bell seems to be stepping up in product quality. I know when I was little (er, younger) Bonne Bell was all the rage with us little kids. But it's nice to see that they are providing older preteens and teens with some cheap, but better quality makeup.
I really like this liner. It's a nice plum color, only a little hint of fuchsia-ish madness. (Fuschia-purple stuff is just not my thing) It is very close in color to the Wet n Wild cream eyeliner in eggplant.
WnW Eggplant is my top liner, BB Plum is the lower lash line.
Wonderful color and pigmentation. It lasts quite a long time for me and barely runs.
I only have 2 problems with this liner. Both are unrelated to the product, and are about the packaging.
The first, as I said before, is that the ink on the packaging came off all over my hands.
Second, my liner doesn't retract. I'm not sure why this happened and must just be a defect.
Just be very careful not to wind up your liner too much.
Overall I think this is a lovely product. Very nice for the price.