This is very, very long!
Some of this is old and some is brand new. I just hadn't had the time to review a lot of stuff.
I've found a new fondness for Wet 'n' Wild. Most people know that about 7-10 years ago this stuff was pretty much known as cheap preteen makeup.
But now Wet 'n' Wild has been elevated to good drugstore status.
The first one, which I really love, is the Creme Eyeliners.
I love how easy these go on, but for Eggplant you have to apply about 2 coats for it to be at its full color. It's a nice dark purple, which I really like because most purple eyeliners are a fuschia-ish purple that's kinda gross looking to me. I have to say it's the perfect purple.
Wet 'n' Wild Creme Eyeliners
$3.99
Eggplant
Black
When I first bought them, I thought the brush sucked but now I love them. Not sure what changed :)
These are incredible. They are long wearing and don't budge.
My normal makeup remover will not take this off, I usually use Vaseline to remove them completely.
I highly, highly recommend these to anyone!
ColorIcon Palettes
$4.99
These are great. They include 6 shadows - 3 on the left are matte and the other 3 are shimmer.
They have awesome pigmentation.
(And I just noticed they're all named after the 7 deadly sins... *sigh*)
There are 4 regular palettes - Greed, Pride, Lust and Vanity
There are also 4 limited edition holiday palettes - Snow Sprite, Pixie, Night Elf and Golden Goddess
and they each come with an eyeliner

Lust
Lust is my absolute favorite. This product is so hyped up and so worth it.
The colors are just so gorgeous. I highly recommend trying it. Great product for an awesome price.
Pride
Once again, gorgeous colors. They're not the best colors on me, so I don't use this a whole awful lot.
Still highly recommend trying it.
Mini ColorIcon Trios
Got with the holiday traincase
Don't Steal My Thunder and Sweet as Candy
I haven't had the chance to use Don't Steal My Thunder yet, but Sweet as Candy is so cute so I used it right away.
Nice pigmentation but could be better. The colors work together very nicely. It reminds me of Neopolitan ice cream :)
Now onto Mascara
Wet n Wild has nice mascara for a great price
MegaProtein Mascara
$2.99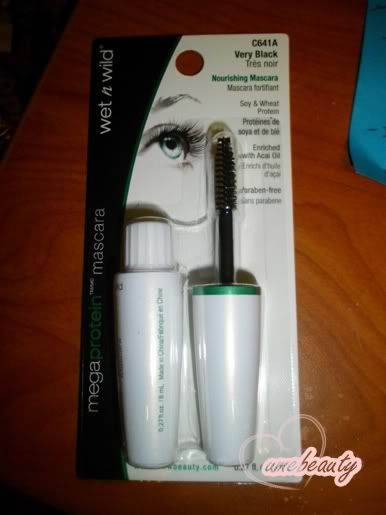 I would really like this one if it weren't so messy. It creates a similar look as Maybelline The Falsies, but less dramatic.

MegaProtein on the left - naked lashes on the right
It thickens a little bit and has some nice length. A super-great price for a mascara.
Mini MegaLength and MegaPlump
Full size $2.99
Got these in the holiday traincase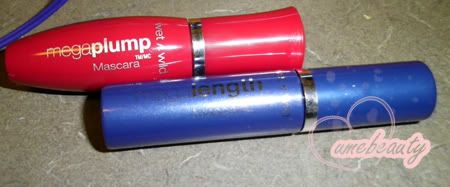 MegaPlump thickens very nicely and MegaLength does its job very well
MegaLength has short rubber bristles
MegaPlump has fiber bristles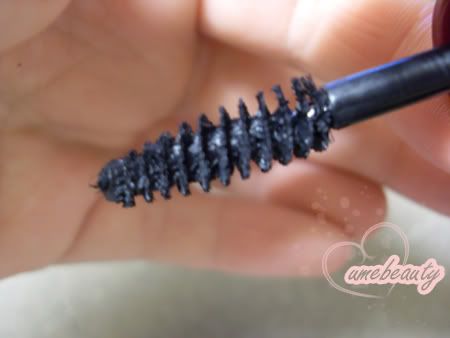 I often use them together, which creates some great results.
Neither give me any clumping.
Now for some lipstick!
Swatches soon!
Mega Matte Lipsticks
$2.99
These are completely matte, no shimmer whatsoever. My only problem is that they expose liplines
I often use a clear gloss over them
Just Peachy (903C)
It's a peachy pink that looks quite lovely on my fair skin tone. It is a lot more peachy/tangerine color than pink. If I dab it on lightly, I get a peachy nude color that also looks great. My lips but better :)
Spotlight (911D)
It looks really orange in the picture, but it's a nice true red. I think it has just a little bit of orange in it without being too overwhelming. Usually I stay away from bright colors, especially red, but I think that this looks so good on me.
Mini MegaMatte Lipsticks
Got these in the Holiday Traincase
Think Pink (901B) and Spotlight (911D)
They are both the same as the full versions
Think Pinks is, well, very pink. I can't really pull this one off, but I still sorta like it
Perfect Pair Lip Wand
$3.99
Hanky Pinky
I adore this color. The liner is a darker pink with a bit of fuchsia in it. The crayon is a lighter pink, berry-ish color.
Cover All Liquid Concealer
$1.99
This does its job pretty well.
If I need extra coverage I'll use NYX eyeshadow base in Nude underneath.
(NYX is a bit too yellow for my skin, which is why I use both)
Mini ColorIcon Blush
Heather Silk and Pearlescent Pink

Ultimate Sheer Tined Moisturizer in Beige
$3.99

This is really nice for the summertime when you don't want to have heavy makeup on. It has very sheer coverage, but just enough.
It does get a little orange around my hairline. It has SPF 15 which is really nice too.
I really don't use this all that much, but it's very nice.


Kohl Brow Pencil
99¢

My favorite eyebrow pencil. I have it in the color Taupe.


And nails (more to come)

Mini MegaLast Polish
Got with the holiday traincase

Caught Red Handed and Sugar Coated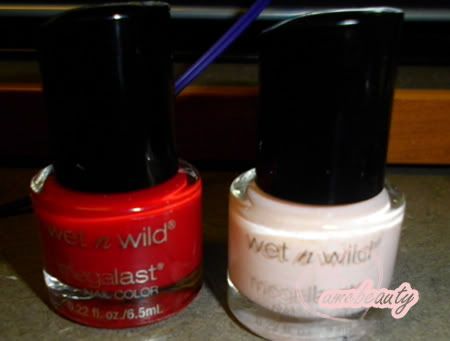 I've only used sugar coated. It's a nice nude-pink color but goes on very streaky. :(
Disappointed.


There's a few more things that I need to add and take pictures of. They'll be up before too long.