$1 each at
EyesLipsFace.com
May be available at Target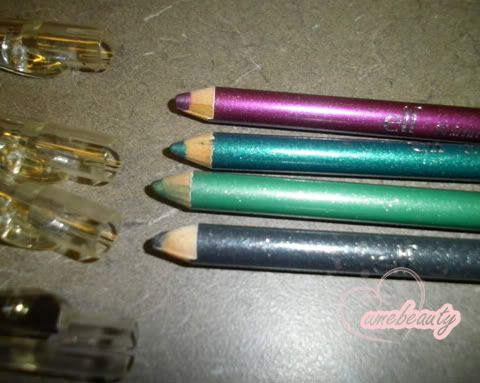 and off we go~~
I love these to bits! They are all shimmery but are slightly metallic as well. (Maybe that's the texture? lol)
From
eyelipsface.com
"Instantly brighten eyes with e.l.f.'s shimmering metallic liners that put the spotlight on eyes. The smooth formulation glides on effortlessly without tugging at the delicate eye area. Choose from an assortment of 9 delicious and essential shades designed to add depth, definition and a special sparkle to create a very glamorous look! Pencil includes a convenient sharpener cap for easy use!"
ELF sells 9 colors:
Iconic Ivory, Precious Pink, Blissful Blush, Gunmetal, Boldly Bronzed, Grassy Green, Twinkle Teal, Plum Passion and Black Bandit.
I have (from top to bottom) Plum Passion, Twinkle Teal, Grassy Green, and Gunmetal.
Swatches (same order)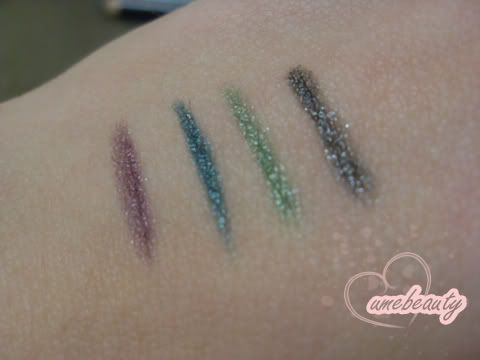 As you can see, they have wonderful pigmentation. These pencils are rather creamy and glide on with no tugging. They wear quite well, and don't smudge a lot.
You can blend these out to use as a base. I tried this once with twinkle teal and it was b-e-a-utiful!
One of the very surprising things about the packaging is the built in sharpener. I was kinda skeptical about how efficient it would sharpen the pencils, but it works perfectly for me.
I only found one downside and it's a common one from ELF. The true colors didn't match the colors on the website. Sad Face.
I bought Blissful Blush for a friend for Christmas. When I received it, I noticed that it is not lavender in color as I expected. It's more of a lighter brown. I was quite disappointed, but my friend loved it nonetheless. :)
I highly recommend these to anyone. They're perfect for teens and adults - they're shimmery without being overly sparkly (no discoball effect :D), great pigmentation and super-nice price.
Overall
10/10